Wednesday September 18th, 2013
Plum dumplings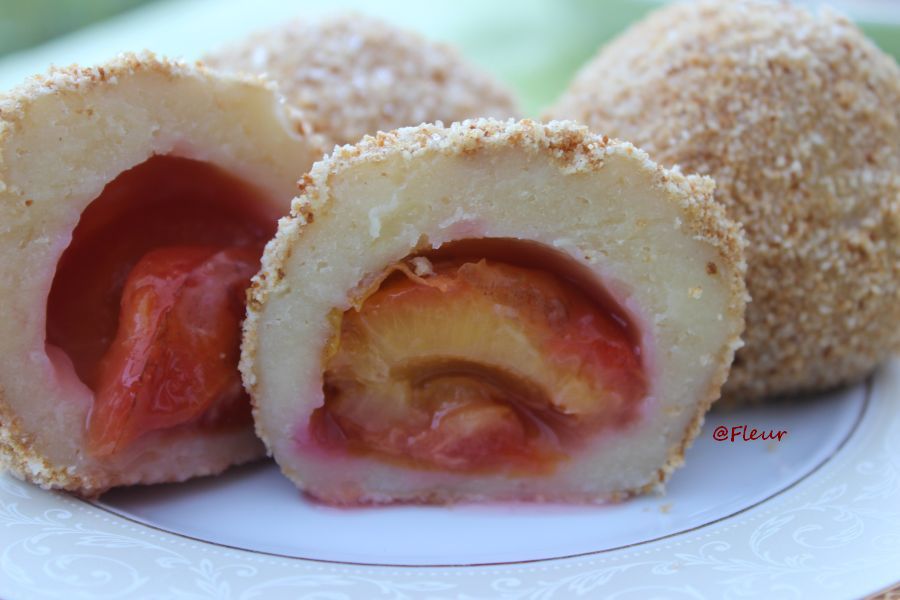 Posted in :
Desserts
on
by :
fleur
Tags:
deserturi vegane
,
mancare vegana
,
retete vegane
For 12-15 dumplings:
12-15 medium size plums
1/2 kg potatoes
150 g flour
1 tablespoon oil
3 tablespoons raw sugar
pinch of salt
1 cup breadcrumbs
2 tablespoons raw sugar
Cook the potatoes, drain and mash.
Allow to cool then add the flour, oil, sugar and salt. Mix  until you obtain a soft dough.
Make a roll of the dough  approx. 5 cm. thick. Cut into 12-15 pieces of approx. 1.5-2 cm.
Wash the plums, remove the pits and eventually  fill each plum  with a little bit of sugar (only if de plums are sour).
Take a piece of dough, stretch it between your hands, place the plum in the middle, seal the edges and form balls.
In a souppan bring 3 l water with a pinch of salt, to boil. Carefully drop each dumpling into the boiling water. Cook on low heat for about 15 minutes (when ready they will rise to the surface).
In a saucepan brown the breadcrumbs stirring continuously. Allow to cool then add the raw sugar and mix.
Drain the dumplings well then roll them in the mix of breadcrumbs with sugar until covered.