18 September, 2013
Plum dumplingsGaluste cu pruneDumplings met pruimenGnocchi di susine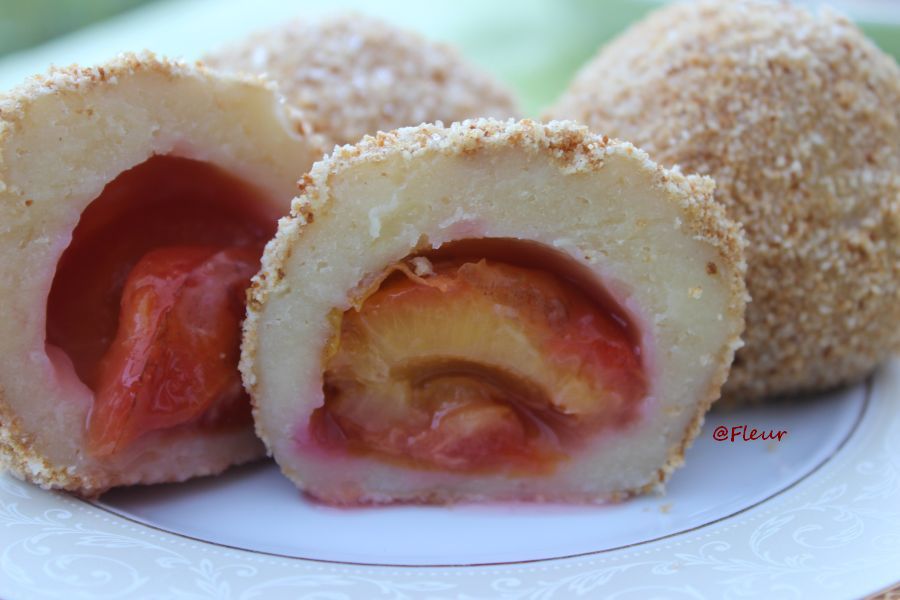 Posted in :
Desserts
on
by :
fleur
Tags:
deserturi vegane
,
mancare vegana
,
retete vegane
For 12-15 dumplings:
12-15 medium size plums
1/2 kg potatoes
150 g flour
1 tablespoon oil
3 tablespoons raw sugar
pinch of salt
1 cup breadcrumbs
2 tablespoons raw sugar
Cook the potatoes, drain and mash.
Allow to cool then add the flour, oil, sugar and salt. Mix  until you obtain a soft dough.
Make a roll of the dough  approx. 5 cm. thick. Cut into 12-15 pieces of approx. 1.5-2 cm.
Wash the plums, remove the pits and eventually  fill each plum  with a little bit of sugar (only if de plums are sour).
Take a piece of dough, stretch it between your hands, place the plum in the middle, seal the edges and form balls.
In a souppan bring 3 l water with a pinch of salt, to boil. Carefully drop each dumpling into the boiling water. Cook on low heat for about 15 minutes (when ready they will rise to the surface).
In a saucepan brown the breadcrumbs stirring continuously. Allow to cool then add the raw sugar and mix.
Drain the dumplings well then roll them in the mix of breadcrumbs with sugar until covered.
Pentru 12-15 găluște:
12-15 prune de mărime medie
1/2 kg cartofi
150 g făină
1 lingură ulei
3 linguri zahăr brut
un praf de sare
1 cana pesmet
2 linguri zahăr brut
Se prepară un pure din cartofii fierți.
Se lasă să se răcească apoi se adaugă făina, uleiul, zahărul și sarea și se amestecă pană se obține o cocă nu prea tare.
Coca se rulează formandu-se un rulou de aprox. 5 cm. Se taie în 12-15 bucăți de aprox. 1,5-2 cm.
Prunele se spală, li se scot samburii și eventual se pune puțin zahăr înăuntru.
Fiecare bucată de cocă se întinde, în mijloc se pune o prună, se închide și se formează mingiuțe.
Cand toate galuștele sunt gata se pun la fiert în apă clocotită cu sare și se fierb, la foc mic, timp de 15 minute (se vor ridica la suprafată).
Într-o cratiță se rumeneste pesmetul iar după ce s-a răcit se adaugă zahărul brut.
Găluștele se scurg bine apoi  se tăvălesc prin pesmet și zahăr.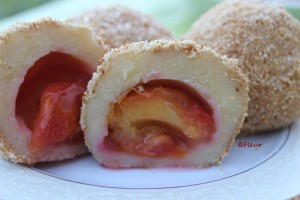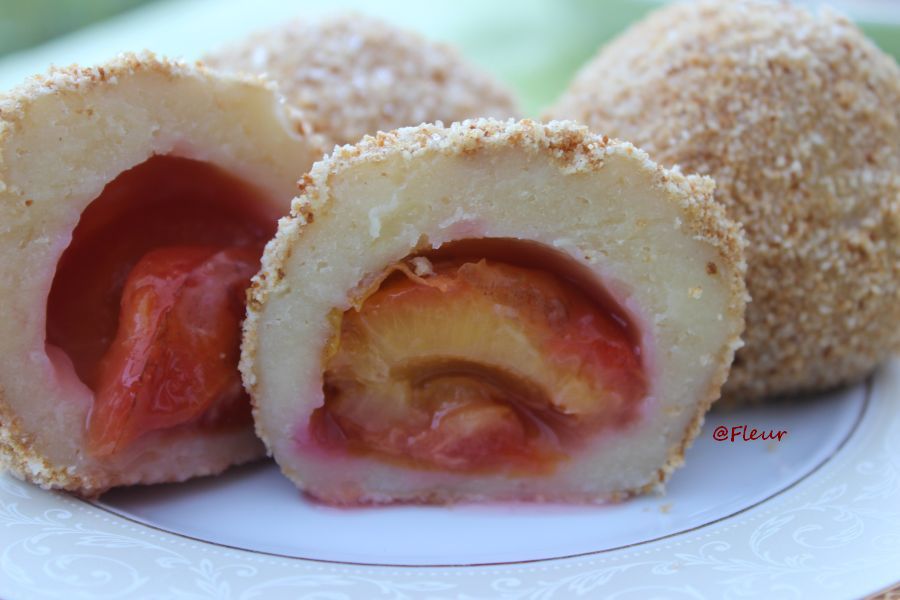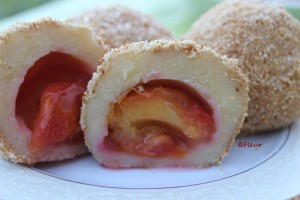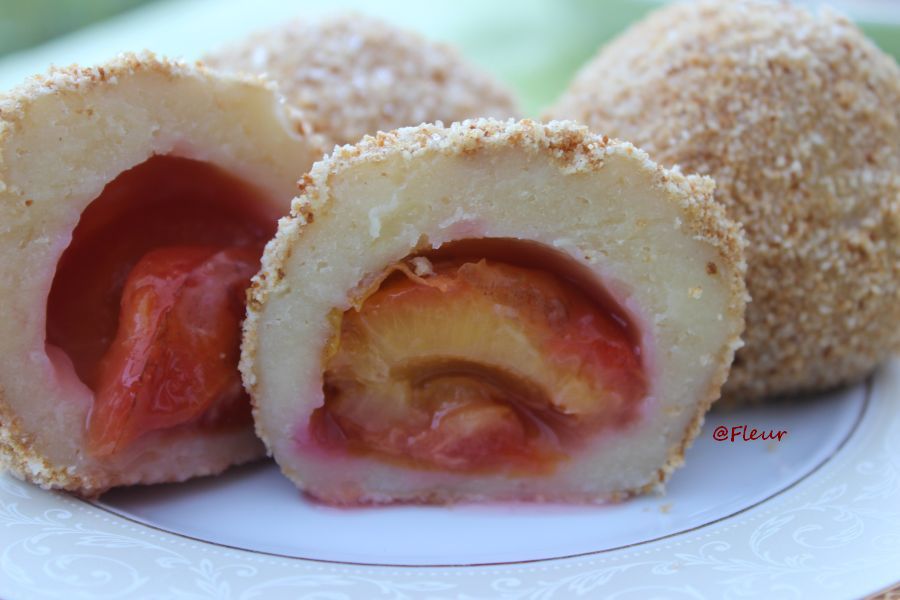 12-15 susine di media grandezza
1/2 kg di patate
150 g di farina
1 cucchiaio di olio
3 cucchiai di zucchero grezzo di canna
1 presa di sale
1 tazza di pangrattato
2 cucchiai di zucchero di canna grezzo
Cuocete le patate, scolatele e schiacciatele.
Lasciate raffreddare, quindi aggiungete la farina, l'olio, lo zucchero e il sale. Mescolate fino ad ottenere un'impasto morbido.
Formate un rotolo spesso approssimativamente 5 cm con la pasta. Tagliatelo in 12-15 pezzi di 1,5-2 cm circa.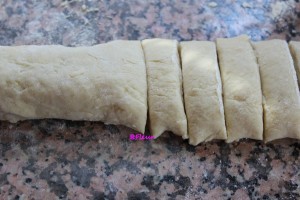 Lavate le susine, togliete loro il nocciolo ed infine farcite ciascuna susina con un po' di zucchero (solo se le susine sono aspre).
Prendete un po' di impasto, stendetelo tra le vostre mani, posizionate la susina nel mezzo, chiudete le estremità e formate delle palline.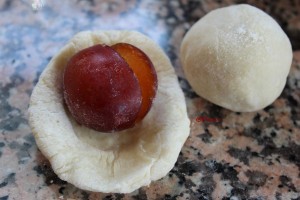 In una pentola, portate ad ebollizione  3 lt d'acqua con una presa di sale. Facendo attenzione, buttate gli gnocchi nell'acqua bollente. Cuocete a fiamma bassa per circa 15 minuti (quando sono pronti, gli gnocchi salgono in superficie).
Fate rosolare il pangrattato in un tegame, mescolando continuamente. Lasciate raffreddare, quindi aggiungete lo zucchero di canna grezzo e mescolate.
Scolate accuratamente gli gnocchi, quindi fateli rotolare nell'impasto di pangrattato e zucchero finché non ne siano ricoperti.