Saturday September 14th, 2013
Potato, pea and chickpea curry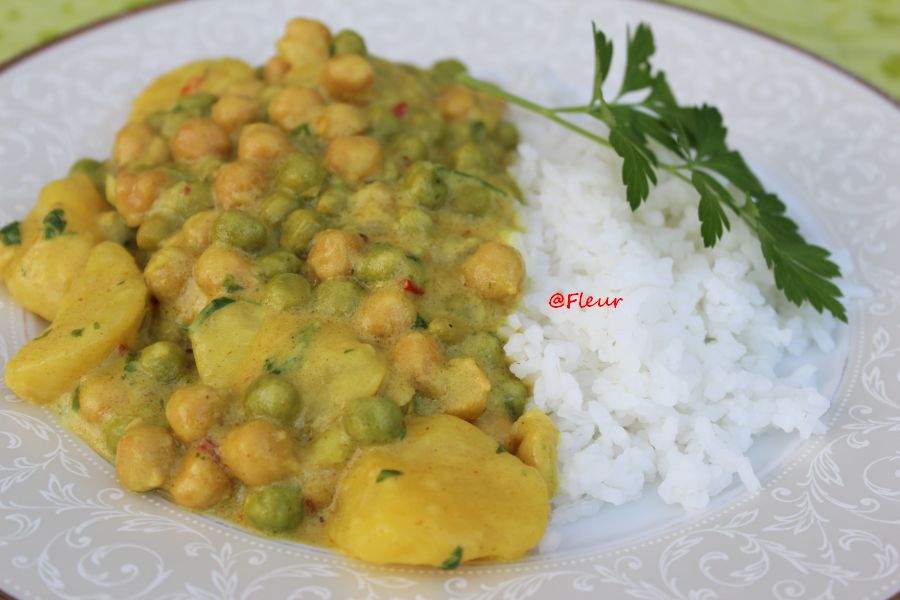 Comments : 2 Posted in :
Main dishes
on
by :
fleur
Tags:
mancare indiana
,
mancare vegana
,
retete cartofi
,
retete vegane
For 2-3 servings:
1/2 kg potatoes, peeled and cubed
300g peas (fresh or frozen)
250 g cooked chickpeas
1 tin coconut milk
2 onions, finely chopped
chili (fresh or powder), to taste
5-6 cloves of garlic, finely chopped
2 cm fresh ginger, grated (or 1 teaspoon ginger powder)
1 tsp. coriander powder
1 teaspoon turmeric
1 teaspoon garam masala
1 tablespoon oil
salt and pepper, to taste
fresh cilantro, finely chopped, to garnish (optional)
Stir fry the onions in oil for 2-3 minutes. Add the garlic, grated ginger (ginger powder) and cook for another  minute. Add the coconut milk, a little bit of water, the spices and the potatoes. Cover and simmer on medium heat. When the potatoes are almost cooked add the peas and the chickpeas. Cook until the vegetables are done. Add salt and pepper to taste. Garnish with fresh coriander.
Serve with basmati rice/biryani and/or naan bread.
2s COMMENTS