Saturday January 24th, 2015
Creamy beetroot soup
Posted in :
Soups
,
Weight loss recipes
on
by :
fleur
Tags:
mancare vegana
,
retete vegane
,
supe/ciorbe
,
vegan recipes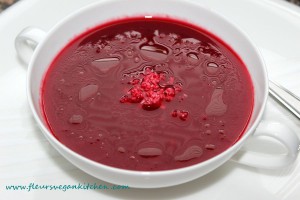 For 6 servings:
1/2 kg beets (4 medium pieces), chopped
1 onion, chopped
1 carrot, sliced
1 potato, chopped
1 parsnip, sliced (optional)
1 bay leaf
salt and pepper, to taste
grated horseradish, to taste
olive oil, to taste
Put the beets in a soup pot  and add 1.5 l water. Cover and simmer for approx. 10 minutes.
Add the remaining vegetables and the bay leaf.
When the  vegetables are cooked remove the bay leaf then blend it until smooth.
Add salt and pepper to taste.
Garnish the plate with grated horseradish and a little bit olive oil and eventually  finely chopped parsley.