Thursday January 15th, 2015
Brussels sprouts and tempeh in tomato sauce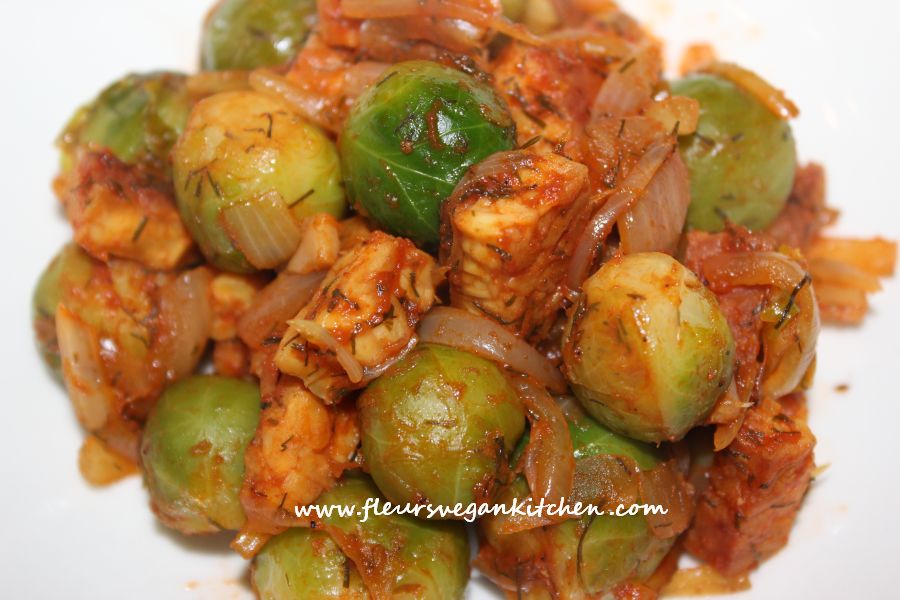 Posted in :
Main dishes
,
Weight loss recipes
on
by :
fleur
Tags:
mancare vegana
,
retete vegane
,
tempeh
,
vegan recipes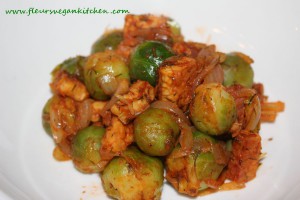 For 2-3 servings:
500 g Brussels sprouts, trimmed
350 g  tempeh (or tofu), cubed
2 onions, finely sliced
2 teaspoons dill (dried or fresh), finely chopped
2 tablespoons tomato paste
salt and pepper, to taste
4 tablespoons olive oil
Fry the tempeh (tofu) in 3 tablespoons of oil until golden brown.
Heat 1 tablespoon of oil in a saucepan  and add the onions. Stir fry for 2-3 minutes, add the Brussels sprouts and 2 tablespoons of water.
Cover and simmer , stirring regularly. When the water has evaporated  add again 1-2 tablespoons of water.
When the Brussels sprouts are tender (6-7 minutes) add the tomato paste diluted in very little water, dill, salt and pepper to taste. Cook for another 3-4 minutes.
At the end add the tempeh and mix.
Serve with salad or  pickles.
For weight loss bake the tempeh (tofu) in the oven without using oil.