27 May, 2016
Chinese-style asparagusSparanghel in stil chinezesc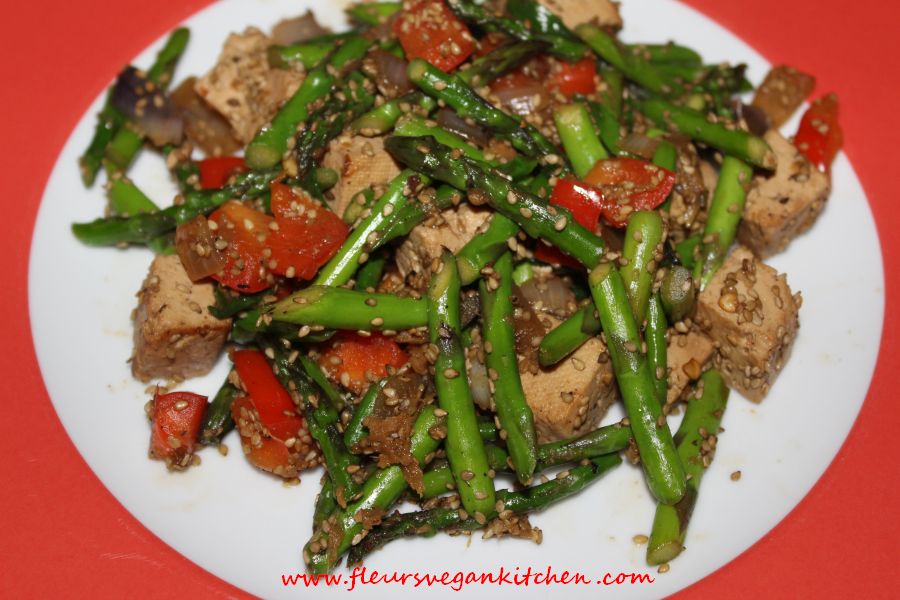 Posted in :
Main dishes
on
by :
fleur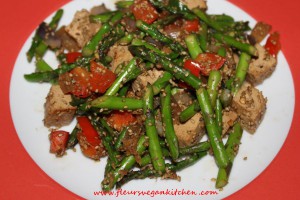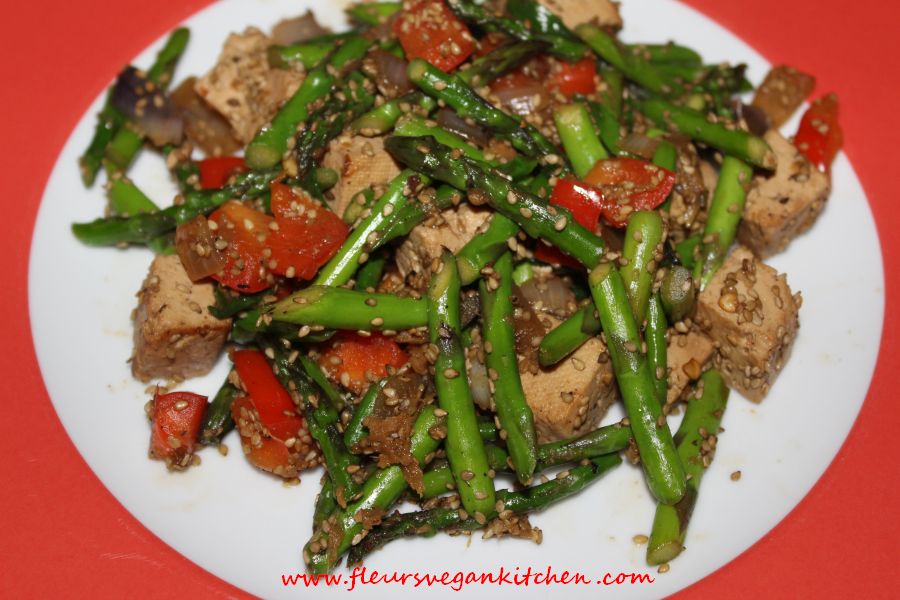 For 2-3 servings:
200 g tofu, diced
200 g green asparagus, cut in pieces of 3-4 cm long
1 onion, chopped
1 red bell pepper, chopped
2 green onions, chopped
2 tablespoons sesame seeds
1 tablespoon sesame oil
For the marinade:
3-4 tablespoons soy sauce
4 cm grated ginger (or 1 tablespoon  ginger powder)
2 tsp. coriander powder
chilli flakes, to taste
5-6 garlic cloves, minced
pepper, to taste
Mix all the ingredients for the marinade. Pour over the tofu pieces, mix well and leave to marinate in the refrigerator for at least an hour.
Heat the sesame oil in a wok, add the onion and the tofu and stir fry for about 2-3 minutes on high heat. Add the asparagus and the bell pepper, stir fry for further 3-4 minutes. An the end add the green onions and the sesame seeds. Mix everything and continue to stir fry   for another 2-3 minutes. If needed add more soy sauce to taste.
Serve plain or with boiled rice.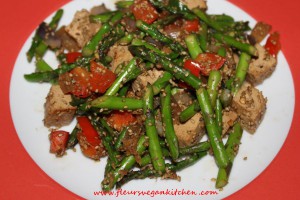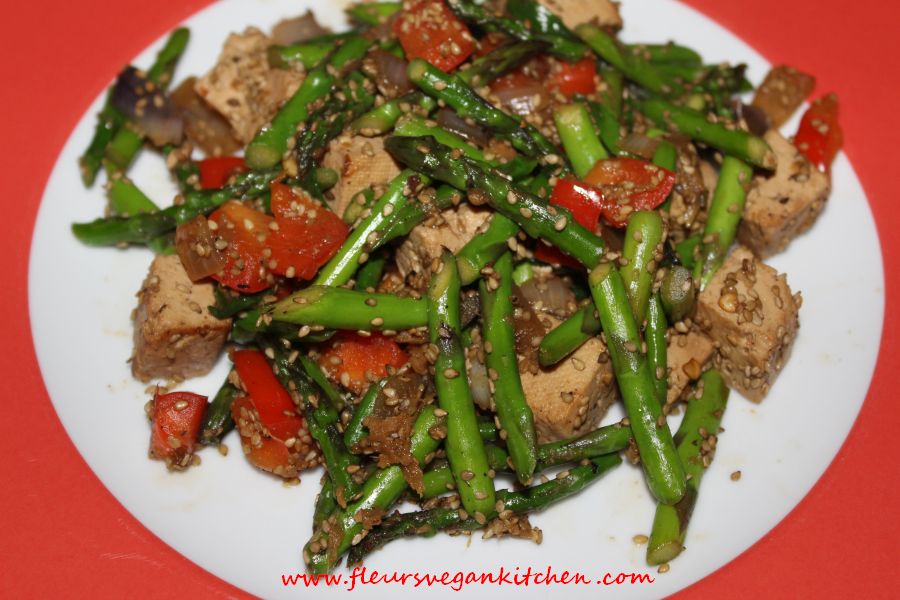 Pentru 2-3 portii:
200 g tofu, taiat bucati
200 g sparanghel verde, taiat bucati de 3-4 cm
1 ceapa, taiata bucatele
1 ardei gras rosu, taiat bucatele
2 fire ceapa verde, taiata
2 linguri seminte de susan
1 lingură de ulei de susan
Pentru marinată:
3-4 linguri  sos de soia
4 cm ghimbir ras (sau 1 lingura ghimbir pudră)
2 lingurițe coriandru pudră
fulgi de ardei iute, dupa gust
5-6 cătei de usturoi pisați
piper, dupa gust
Se amestecă toate ingredientele pentru marinată. Se toarna peste bucatile de tofu, se amesteca bine si se lasa la marinat in frigider cel putin o oră.
Intr-un wok se incinge uleiul de susan, se adauga ceapa si bucatile de tofu si se rumenesc 2-3 minute. Se adauga sparanghelul si ardeiul gras, se mai căleste pret de 3-4 minute, amestecandu-se continuu. La sfarșit se adaugă ceapa verde si semintele de susan. Se amestecă totul, pe foc, timp de cateva minute. Daca este nevoie se mai adauga sos de soia.
Se servește alături de orez fiert.