Hummus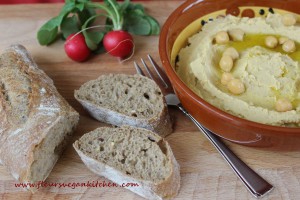 225 g cooked chickpeas
1-2 cloves of garlic, mashed, to taste
fresh lemon juice, to taste
2-3 tablespoons olive oil
2 tablespoons sesame paste (tahini)
1 teaspoon paprika powder, optional
parsley, for garnish (optional)
salt and pepper, to taste
Drain the chickpeas but store the liquid.
Put all ingredients in a blender/ food processor and blend until smooth. If necessary, if the hummus is too thick, add a little bit of liquid from the cooked chickpeas (the hummus should have the consistency of mashed potatoes).
It can be served with bread, olives, falafel, "sticks" of vegetables (bell peppers, kohlrabi, cucumber, etc..).