22 September, 2013
Tofu tikka masalaTofu tikka masalaTofu tikka masala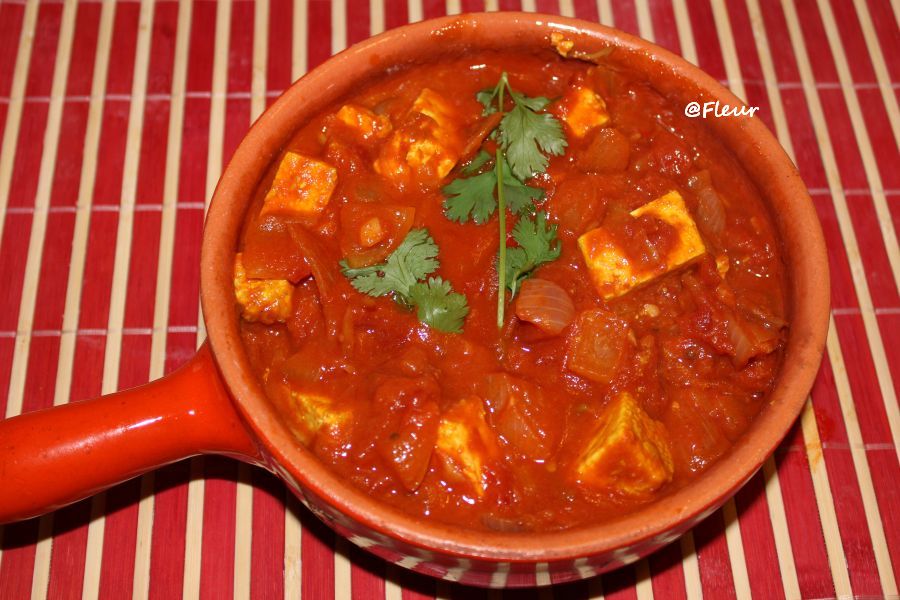 Posted in :
Main dishes
,
Weight loss recipes
on
by :
fleur
Tags:
mancare indiana
,
mancare vegana
,
retete vegane
,
tofu
For 3-5 servings:
For the tofu marinade:
250 g tofu, cubed
3 cloves of garlic
2.5 cm fresh ginger / 2 tsp. ginger powder
1/2 teaspoon chili powder
1/2 teaspoon salt
the juice of half lemon
100g soy yogurt
1 teaspoon garam masala
1/2 teaspoon turmeric
1/2 teaspoon cumin powder
1 tbsp sunflower oil
Prepare a paste of ginger, garlic, soy yogurt, lemon juice and spices. Pour over tofu. Mix well, cover and refrigerate for at least one hour.
Bake the tofu in the oven, on medium heat, 10 minutes on each side.
For the masala sauce:
2 tablespoons oil
3 large onions, chopped
2 cans diced tomatoes
150 g soy yogurt / a tin of coconut milk
1 teaspoon mustard seeds
3 cloves of garlic, finely chopped
2.5 cm ginger / 2 tsp. ginger powder
1 tsp. coriander powder
1 teaspoon cinnamon
1 tsp. turmeric
1 teaspoon garam masala
1/2 teaspoon chili  powder (or fresh chili)
1/2 teaspoon cumin  powder
salt and pepper, to taste
fresh coriander, finely chopped,  to garnish
Heat the oil in a  pan and add the mustard seeds. Fry for 2-3 minutes until they begin to pop. Add the onions, cook for 2-3 minutes than add the garlic, the ginger, the spices and tomatoes. Cook for approx. 10 minutes then add soy yogurt / coconut milk and tofu. Simmer a few minutes, add salt and pepper to taste and garnish with fresh coriander.
Serve with basmati rice /biryani and/or naan bread.
Pentru 3-5 persoane:
Pentru tofu:
250 g tofu
3 căței de usturoi
2,5 cm ghimbir proaspăt / 2 lingurițe de pudră de ghimbir
1/2 linguriță boia iute
1/2 linguriță sare
zeama de la 1/2 de lămâie
100g iaurt de soia
1 linguriță garam masala
1/2 linguriță curcuma (turmeric)
1/2 linguriță chimion
1 lingură ulei de floarea soarelui
Se prepară o pastă din ghimbirul ras, usturoiul pisat, iaurtul de soia, zeama de lămâie și condimente. Se toarnă  peste tofu  tăiat în bucați potrivite. Se amestecă foarte bine, se acoperă și se dă la frigider o oră.
Toful marinat se pune într-o tavă și se  dă 10 minute la cuptor, la foc potrivit, apoi se întorce și se mai coace încă 10 minute.
Pentru sos:
2 linguri de ulei
3 cepe mari
2 conserve de roșii tăiate în bullion
150 g iaurt de soia / o conservă lapte de cocos
1 linguriță semințe de muștar
3 căței de usturoi
2,5 cm ghimbir ras / 2 lingurițe praf de ghimbir
1 linguriță coriandru praf
1 linguriță scorțișoară
1 linguriță curcuma (turmeric)
1 linguriță garam masala
1/2 linguriță boia iute
1/2 linguriță chimion
coriandru proaspăt
sare, piper
Se prăjesc semințele de mustar în uleiul încins până când încep să sară și să se deschidă, se adaugă ceapa tăiată potrivit și se călește timp de 2-3 minute. Se adaugă usturoiul tăiat fin, ghimbirul, restul condimentelor și  roșiile din conservă.  Se fierbe aprox. 10 minute apoi se adaugă iaurtul din soia/ laptele de cocos și bucățelele de tofu. Se mai fierbe câteva minute, se potrivește de sare și piper și se ornează ,eventual, cu  coriandrul proaspăt, tăiat fin.
Se servește împreuna cu orez basmati/brun fiert și cu pâinici naan.