Sunday September 22nd, 2013
Tofu tikka masala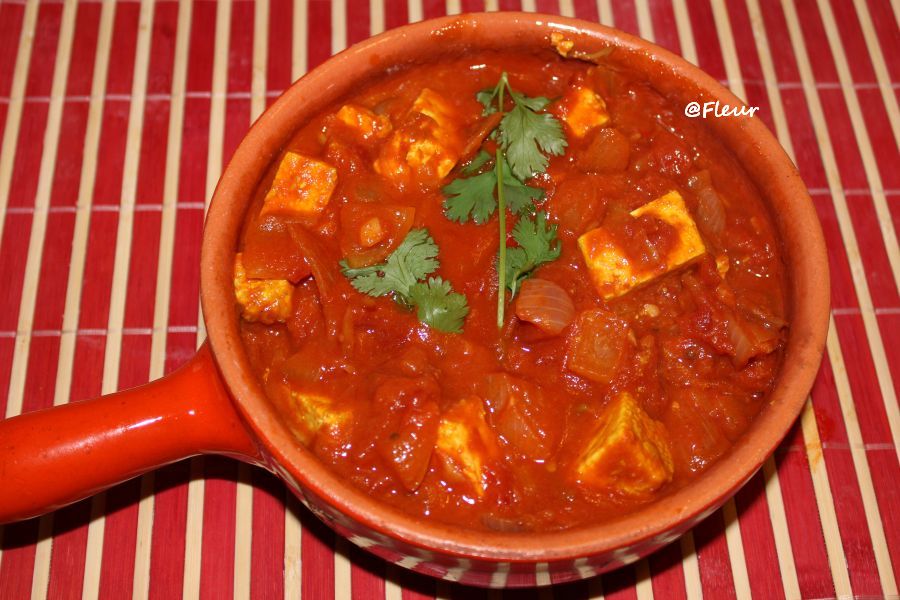 Posted in :
Main dishes
,
Weight loss recipes
on
by :
fleur
Tags:
mancare indiana
,
mancare vegana
,
retete vegane
,
tofu
For 3-5 servings:
For the tofu marinade:
250 g tofu, cubed
3 cloves of garlic
2.5 cm fresh ginger / 2 tsp. ginger powder
1/2 teaspoon chili powder
1/2 teaspoon salt
the juice of half lemon
100g soy yogurt
1 teaspoon garam masala
1/2 teaspoon turmeric
1/2 teaspoon cumin powder
1 tbsp sunflower oil
Prepare a paste of ginger, garlic, soy yogurt, lemon juice and spices. Pour over tofu. Mix well, cover and refrigerate for at least one hour.
Bake the tofu in the oven, on medium heat, 10 minutes on each side.
For the masala sauce:
2 tablespoons oil
3 large onions, chopped
2 cans diced tomatoes
150 g soy yogurt / a tin of coconut milk
1 teaspoon mustard seeds
3 cloves of garlic, finely chopped
2.5 cm ginger / 2 tsp. ginger powder
1 tsp. coriander powder
1 teaspoon cinnamon
1 tsp. turmeric
1 teaspoon garam masala
1/2 teaspoon chili  powder (or fresh chili)
1/2 teaspoon cumin  powder
salt and pepper, to taste
fresh coriander, finely chopped,  to garnish
Heat the oil in a  pan and add the mustard seeds. Fry for 2-3 minutes until they begin to pop. Add the onions, cook for 2-3 minutes than add the garlic, the ginger, the spices and tomatoes. Cook for approx. 10 minutes then add soy yogurt / coconut milk and tofu. Simmer a few minutes, add salt and pepper to taste and garnish with fresh coriander.
Serve with basmati rice /biryani and/or naan bread.