Sunday November 30th, 2014
Tiramisu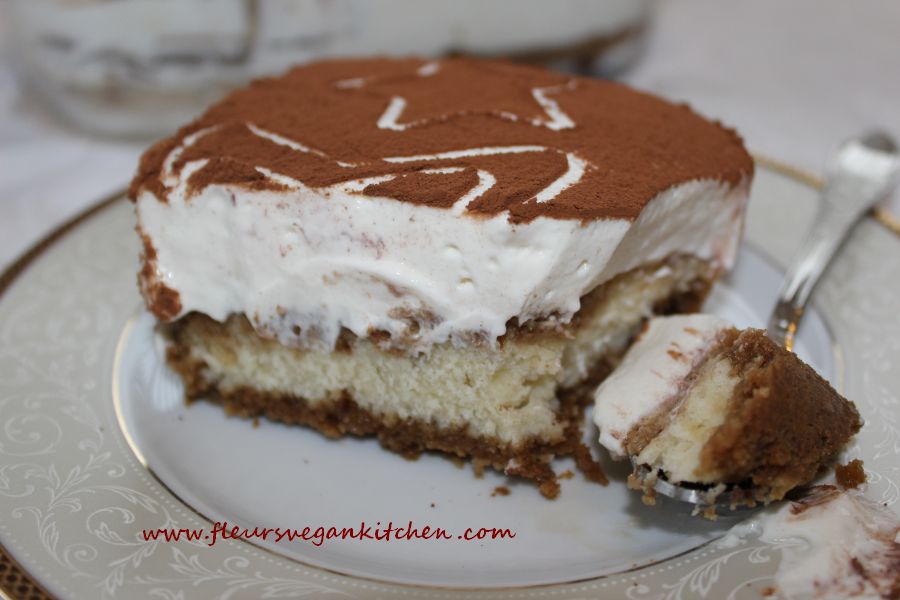 Comments : 3 Posted in :
Christmas menu
,
Desserts
on
by :
fleur
Tags:
deserturi vegane
,
italian recipes
,
mancare vegana
,
retete vegane
,
tofu
,
vegan recipes
For 5-6 servings:
oven tray approx. 17 x 21 cm
1 tablespoon cocoa powder
For the base:
1 cup flour
slightly more than 1/2 cup soy milk
1/3 cup vegan sugar
3 tablespoons oil
1 teaspoon baking powder
vegan margarine to grease the form
Mix all ingredients  until the sugar has dissolved.
Grease the form  with a little bit margarine and coat with flour. Pour the mixture into the form and bake, in the preheated   oven, on medium heat (175 C) for approx. 30 min. Check with a straw/toothpick if it is baked inside otherwise continue baking a few minutes longer.
Allow to cool slightly. Remove the base from the form, level it cutting off the top.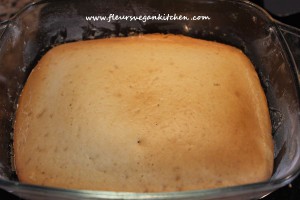 Wash and dry the form and put the base back into it.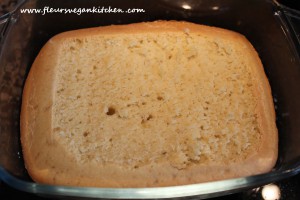 For syrup:
75 ml amaretto (Disaronno)
150 ml coffee (espresso)
Mix the amaretto with the coffee and pour evenly over the base. Set aside until the syrup is completely absorbed.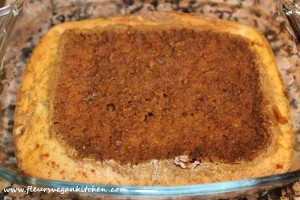 For the cream:
1 packet Silken tofu (350 g)
1 packet vegetable whipping cream (250 g)
3 tablespoons vegan sugar
1 1/2 teaspoons vanilla essence
Wisk the  cream until stiff.
Blend the silken tofu with the sugar and vanilla essence until the sugar has dissolved.
Add it to the cream and mix gently.
Pour over the base and spread evenly.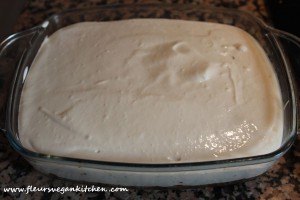 Refrigerate for at least an hour.
Before serving sprinkle cocoa powder on top.
3s COMMENTS