18 August, 2014
PizzaPizzaPizza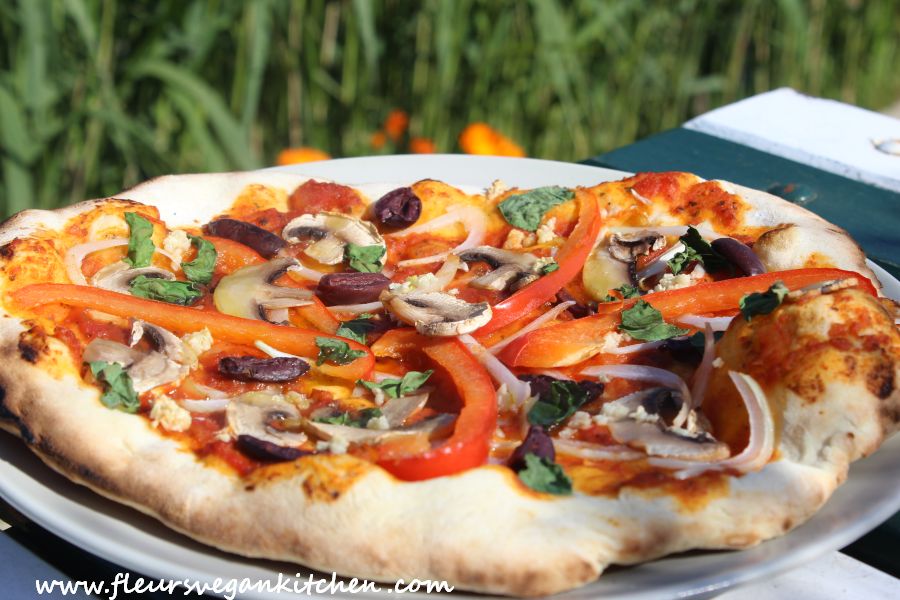 Posted in :
Main dishes
on
by :
fleur
Tags:
mancare vegana
,
pizza
,
retete vegane
[slideshow_deploy id='1956′]
For 4 servings:
For the dough:
400 g flour
2 teaspoons dry yeast
200 ml water
4 tablespoons olive oil
1 teaspoon raw sugar
a pinch of salt
In a cup mix the yeast and sugar with little water. Let it rest until the yeast begins to ferment (approx. 10 minutes).
Mix all ingredients and knead well. The dough must be soft and elastic but should not stick to your hands.
Put the dough in a bowl, cover with a clean kitchen towel and let it rise for 2 hours. Knead again and let it rise for another hour (optional).
Divide into 4 equal parts and shape each part into a pizza with a rolling pin.
For the sauce:
1 onion, chopped
4-5 large ripe tomatoes, chopped
1 teaspoon basil
1 teaspoon oregano
4-5 cloves of garlic, mashed
1 tablespoon olive oil
Stir fry the onion in oil for 3-4 minutes. Add the remaining ingredients, mix well, cover and simmer until the sauce has reduced, stirring  occasionally.
Put the sauce into a blender/food processor and blend/process until you get a smooth sauce.
Smear a little bit tomato sauce evenly over the pizza base and top with finely cut vegetables, like: onions, sweet peppers, hot peppers, zucchini, eggplant, olives, mushrooms, etc.
For the pizza in the image below I used: red onion, bell pepper, mushrooms, olives, garlic and basil.
Bake in de pre-heated oven until crisp and golden.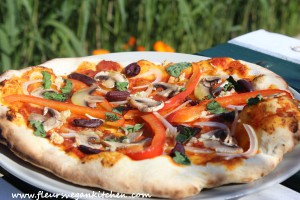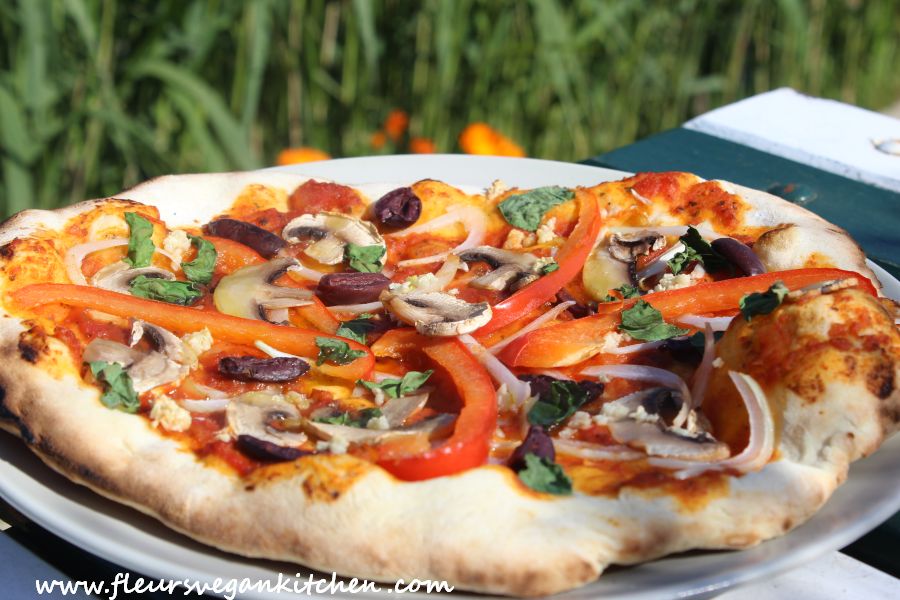 [slideshow_deploy id='1956′]
Pentru 4 portii:
Pentru blat:
400 g faina
2 lingurite drojdie uscata
200 ml apa
4 linguri ulei de masline
1 lingurita zahar brut
un varf de cutit de sare
Intr-o cana se amesteca in putina apa drojdia si zaharul. Se lasa sa stea pana cand drojdia incepe sa fermenteze (aprox. 10 minute).
Se amesteca toate ingredientele si se framanta bine. Aluatul trebuie sa fie moale si elastic dar sa nu se lipeasca de maini.
Se pune aluatul intr-un castron, se acopera cu un servet curat de bucatarie si se lasa 2 ore la crescut. Se framanta din nou si se mai lasa inca o ora sa creasca.
Se imparte in 4 parti egale si se intinde cu un facalet.
Pentru sos:
1 ceapa, taiata marunt
4-5 rosii mari, bine coapte, taiate marunt
1 lingurita busuioc
1 lingurita oregano
4-5 catei de usturoi, pisati
1 lingura ulei de masline
Se caleste ceapa in ulei, pentru 3-4 minute. Se adauga restul ingredientelor, se amesteca bine, se acopera cu un capac si se lasa la fiert pana sosul a scazut, amestecandu-se din cand in cand.
Se pune compozitia intr-un blender/robot de bucatarie si se mixeaza pana cand se obtine un sos fin.
Se "unge" blatul de pizza cu acest sos dupa care se pot folosi diverse toping-uri din legume taiate fin: ceapa, ardei gras, ardei iute, dovlecel, vinete,masline, ciuperci etc.
Pentru pizza din imagine am folosit: ceapa rosie, ardei gras, ciuperci, masline, usturoi pisat si busuioc.
Se coace in cuptorul incins in prealabil, la foc iute.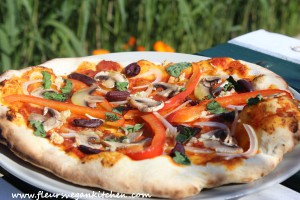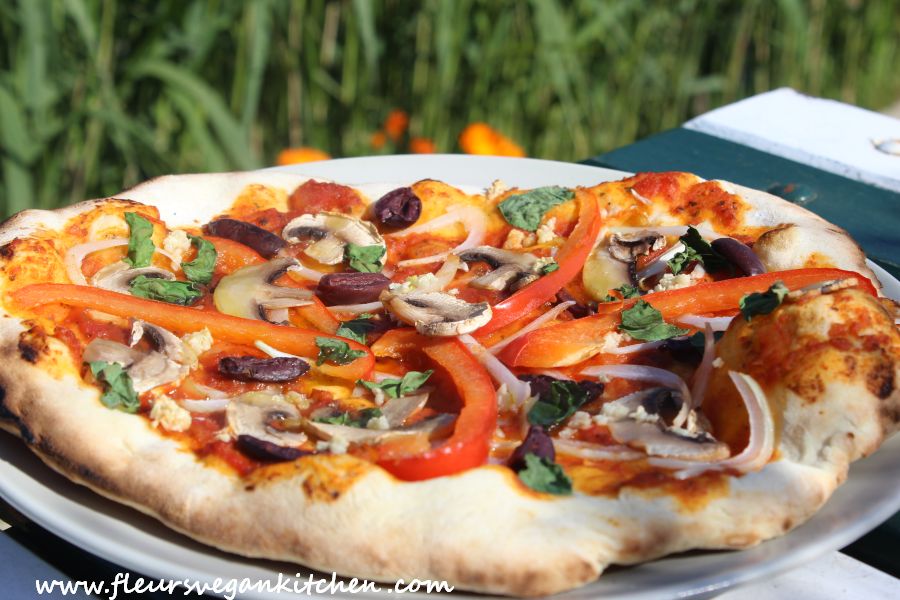 sare, supe gust[slideshow_deploy id='1956′]