Wednesday September 18th, 2013
Vegetable stew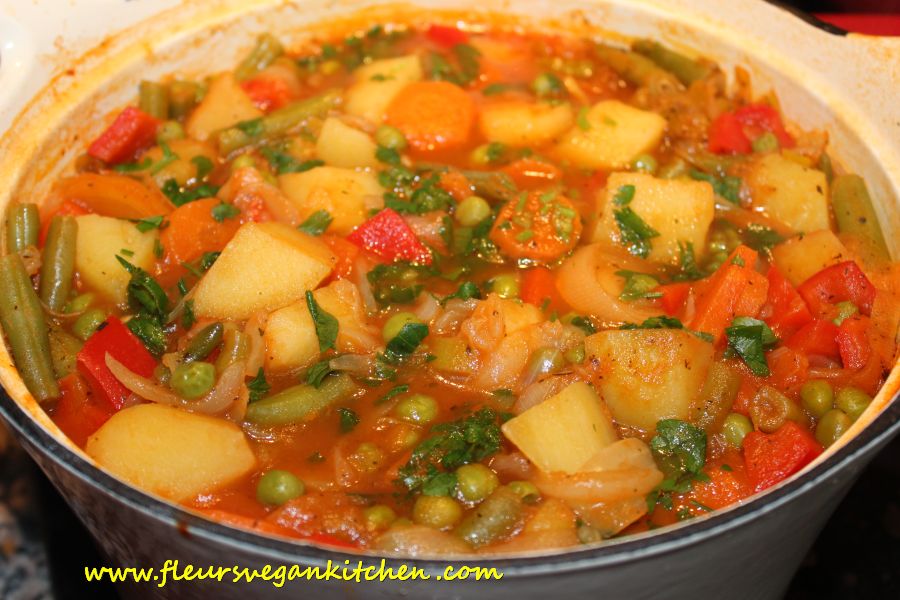 Posted in :
Main dishes
,
Weight loss recipes
on
by :
fleur
Tags:
mancare vegana
,
retete vegane
For 5-6 servings:
2 kg assorted vegetables, chopped
5-6 tablespoons tomato pasta / 1/2 kg tomatoes, diced
1 bunch parsley, finely chopped
2-3 bay leaves
1 teaspoon dried thyme
5-6 cloves of garlic, mashed
3 tablespoons oil
salt and pepper, to taste
For this recipe you can use different vegetables, depending on the season: onions, potatoes, carrots, cauliflower, green beans, peas, broccoli, cabbage, zucchini, eggplant, celery, parsnips, sweet peppers, leeks, etc..
Stir fry the onions in oil for 2-3 minutes. Add the bay leaves, thyme and the vegetables, starting with the ones which take longer to cook : first the green beans and carrots than the cabbage, peas, etc. Add water to cover.
Cover and simmer on medium heat stirring occasionally. When the vegetables are almost cooked add the tomato pasta (or the tomatoes). Finally, add the garlic, salt and pepper to taste.
Garnish with  parsley.
Serve with salad or pickles.