15 September, 2013
Dal tadkaDal tadkaDal tadka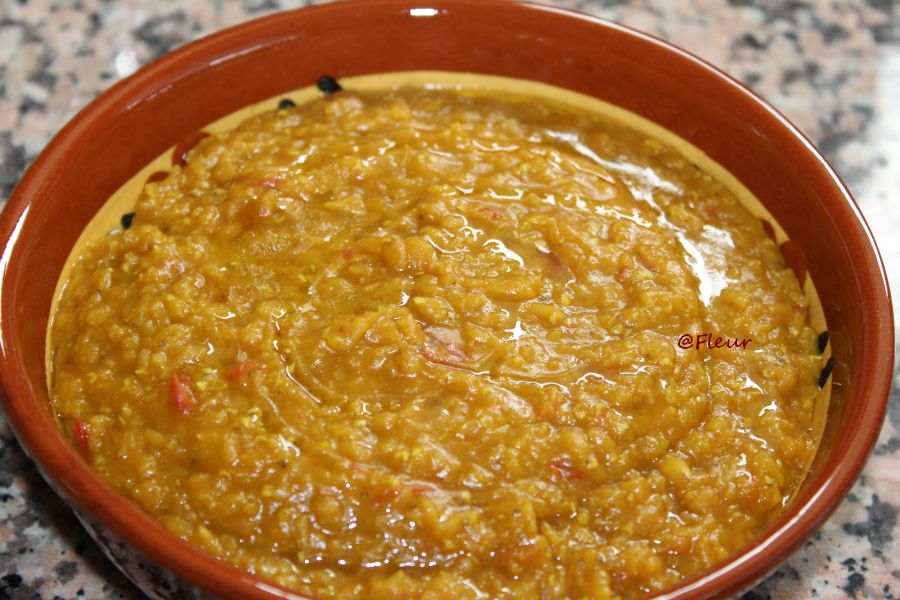 Posted in :
Appetizers
,
Weight loss recipes
on
by :
fleur
Tags:
mancare indiana
,
mancare vegana
,
retete linte
,
retete vegane
1 cup red lentils
2 cups water
1 onion, finely chopped
1 clove of garlic, finely chopped
1 tomato, finely chopped
1 cm fresh ginger, grated (1 teaspoon ginger powder)
½ teaspoon turmeric
1 tsp coriander powder
½ teaspoon cumin
2-3 curry leaves (optional)
dried chilli flakes (or fresh chili pepper/chili powder), to taste
salt and pepper, to taste
olive oil to garnish (optional)
Wash the lentils thoroughly. Put the lentils in a pan together with 2 cups of water, onion, garlic, curry leaves, chilli flakes, turmeric and the ginger.
Cover and simmer for 10 minutes then add the tomato, coriander and the cumin. Cook until the tomato is done, add salt and pepper to taste. Garnish with olive oil (optional).
Serves with naan bread and/or rice.
1 cană linte roșie
2 căni apă
1 ceapă
1 cățel de usturoi
1 roșie potrivită
1 cm ghimbir ras (1 linguriță pudră de ghimbir)
½ linguriță curcuma (turmeric)
1 linguriță coriandru praf
½ linguriță chimion
2-3 frunze de curry (opțional)
fulgi de ardei iute uscat (sau boia iute/ardei iute)
sare, piper
ulei de măsline pentru ornat
Lintea se spală si se pune la fiert, într-o craticioară, în doua căni de apă împreună cu ceapa și usturoiul tăite mărunt, frunzele de curry,fulgii de ardei iute, curcuma și ghimbirul.
Se lasă să fiarbă acoperit timp de 10 minute apoi se adaugă roșia tăiată foarte fin, coriandrul și chimionul. Cand roșia a fiert se potrivește de sare si piper. În farfurie se ornează cu ulei de măsline.
Se servește cu painici indiene naan sau cu orez fiert.