7 October, 2014
Cauliflower in tomato sauceMancare de conopidaBloemkool in tomatensausCavolfiore in salsa di pomodoro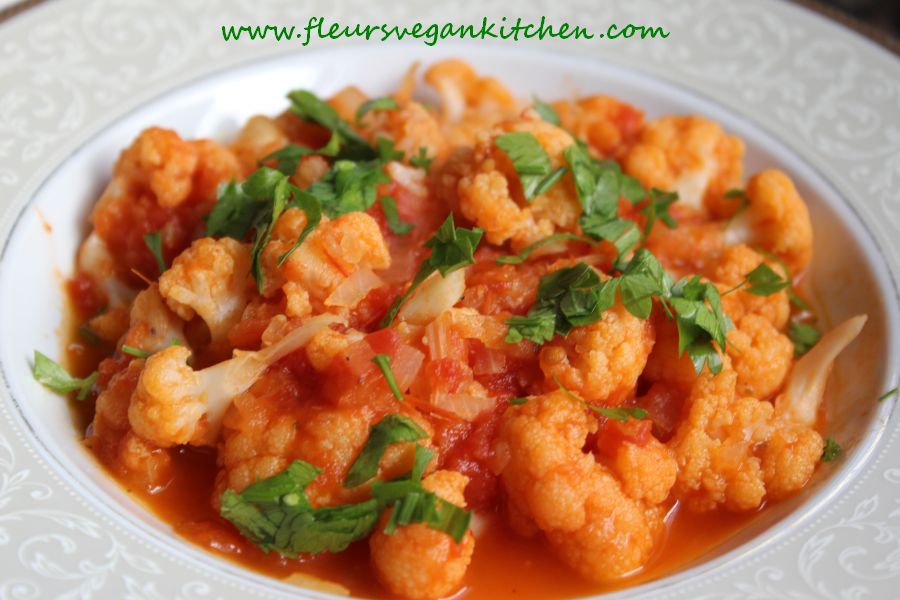 Posted in :
Main dishes
,
Weight loss recipes
on
by :
fleur
Tags:
mancare vegana
,
retete conopida
,
retete vegane
,
romanian recipes
For 3-4 servings:
1 cauliflower
1 onion, finely chopped
1/2 kg tomatoes,  chopped or 1 can of chopped tomatoes or 2-3 tablespoons tomato paste
1 tablespoon oil
parsley, finely chopped
salt and pepper, to taste
Wash the cauliflower and cut it into florets.
Heat the oil in a large pan and add the onion. Fry for 3-4 minutes, stirring occasionally.
Add the cauliflower florets and a cup of water. Cover and simmer, on medium heat, for about 7-10 minutes.
Add the tomatoes (or the canned tomatoes or the tomato paste dissolved in a cup of water). Continue cooking on medium heat until cauliflower is done. Stir occasionally, taking care not to crush the cauliflower.
Finally add salt and pepper and garnish with parsley.
Variation: Together with the cauliflower you can add 3-4 potatoes, cut into pieces
Pentru 3-4 portii:
1 conopida
1 ceapa, taiata fin
1/2 kg de rosii, taiate marunt sau 1 conserva de rosii taiate sau 2-3 linguri bulion de rosii
1 lingura ulei
patrunjel, taiat fin
sare si piper, dupa gust
Conopida se spala si se taie in buchetele.
Se incinge uleiul intr-o cratita si se adauga ceapa. Se celeste 3-4 minute, amestecand din cand in cand.
Se adauga buchetelele de conopida si o cana cu apa. Se lasa la fiert la foc mediu, timp de 7-10 minute.
Se adauga rosiile (sau conserva de rosii sau bulionul de rosii dizolvat intr-o cana cu apa). Se continua fierberea ,la foc mediu, pana cand conopida este patrunsa. Se amesteca din cand in cand, cu grija, sa nu zdrobim bucatile de conopida.
La final se potriveste de sare si piper si se orneaza cu patrunjel.
Variatie: O data cu conopida se pot adauga si 3-4 cartofi, taiati bucatele.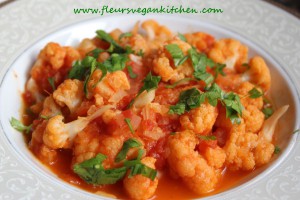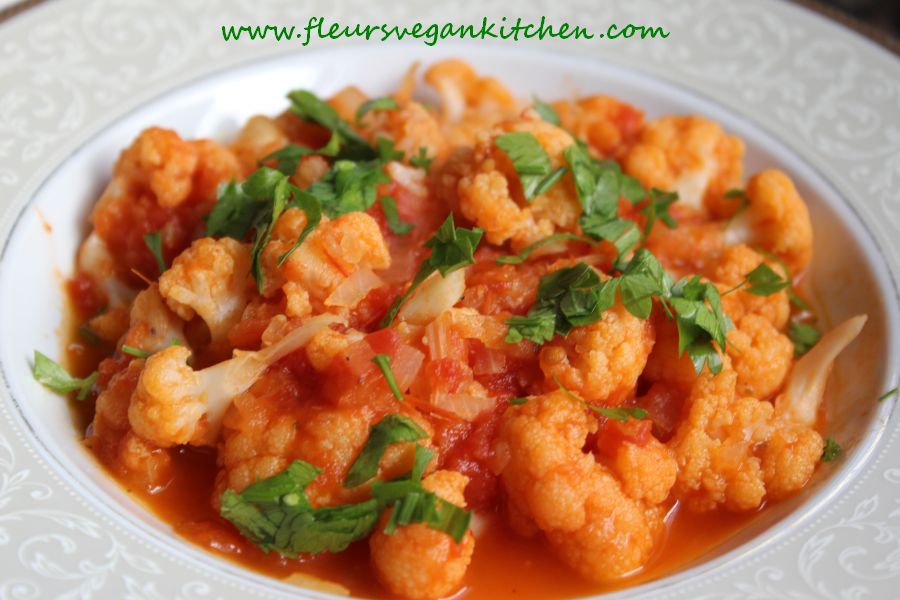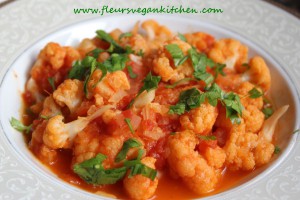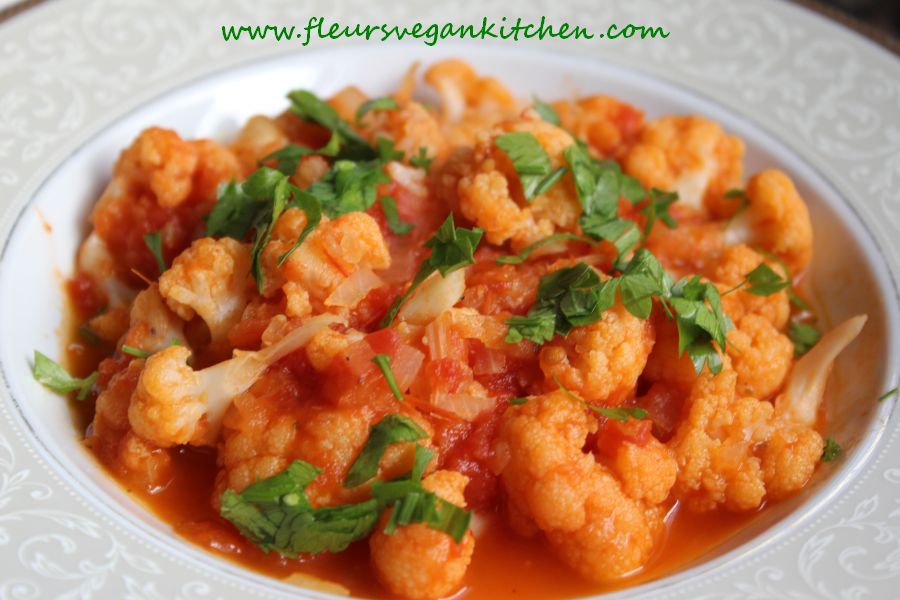 Per 3-4 porzioni:
1 cavolfiore
1 cipolla, finemente tritata
1/2 kg di pomodori, tritati, oppure 1 barattolo di pomodori a pezzi o 2-3 cucchiai di concentrato di pomodoro
1 cucchiaio di olio
prezzemolo, finemente tritato
sale e pepe, a piacere
Pulite il cavolfiore e dividete le cimette.
Fate scaldare l'olio in una pentola grande e aggiungete la cipolla. Soffriggete per 3-4 minuti, mescolando di tanto in tanto.
Aggiungete le cimette del cavolfiore e una tazza d'acqua. Coprite e fate cucere lentamente, a fiamma media, per circa 7-10 minuti.
Aggiungete i pomodori (o i pomodori a pezzetti in scatola, o il concentrato di pomodoro sciolto in una tazza d'acqua). Continuate a cuocere a fiamma media fino a che il cavolfiore sia pronto. Mescolate di tanto in tanto, facendo attenzione a non rompere le cimette di cavolfiore.
Infine aggiungete il sale ed il pepe guarnite con il prezzemolo.
Variante:
insieme al cavolfiore potete aggiungere 3-4 patate, tagliate a pezzetti.