Sunday September 15th, 2013
Soy burgers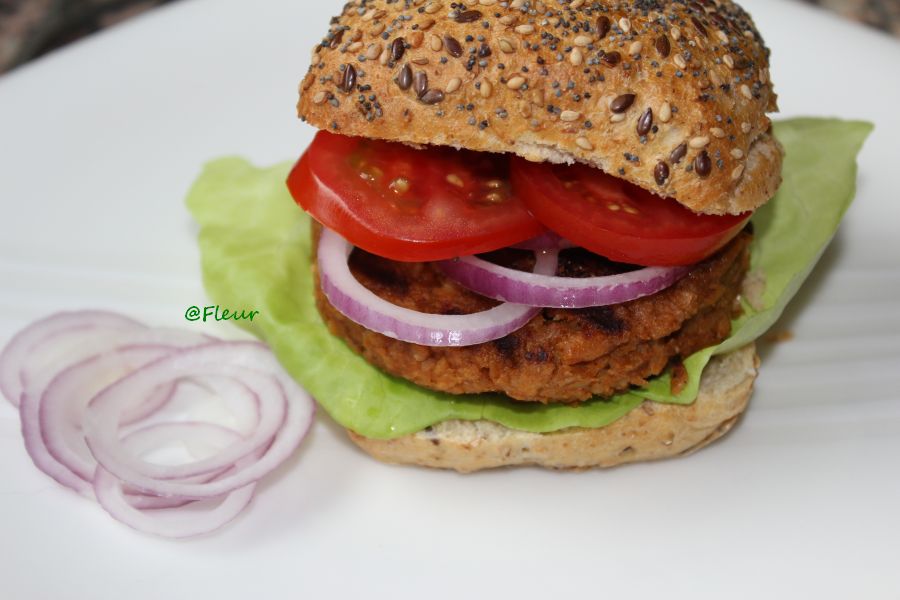 Posted in :
Main dishes
on
by :
fleur
Tags:
burgers
,
mancare vegana
,
retete vegane
,
soia
For 3 burgers:
50 g soy granules
150 ml water
2 tablespoons soy flour
1 tablespoon soy sauce
2 garlic cloves, diced
2 tablespoons ketchup (or tomato puree)
1 ½ teaspoon cumin powder
1 teaspoon coriander powder
1 teaspoon paprika powder
1 teaspon onion powder (or a small onion chopped very fine)
1 teaspoon locust bean gum
salt and pepper, to taste
Soak the soy granules  in 150 ml  water for 10 minutes (or as indicated on the package).
Mix all the ingredients by hand, stirring until you get a paste. Let it rest in the refrigerator for at least an hour so the soy will  take the flavor of the spices .
Form in 3 patties, wetting the hands in water to prevent sticking.
Brush the burgers with a little bit  of oil and grill them  4-5 minutes on each side (or they can be dusted with a little flour and fried in hot oil).
Cut the roll in half, add the burger and salad, finely chopped onions, tomateos, mustard,  ketchup, vegan mayonnaise or garlic sauce to taste.